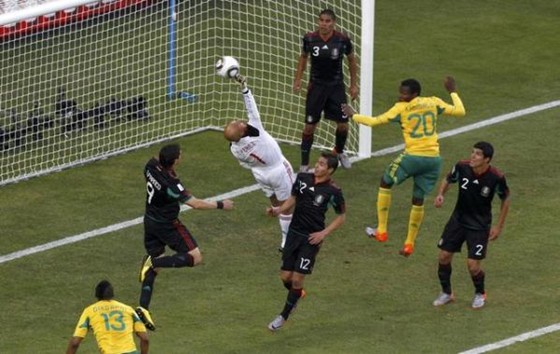 Mexico vs South Africa 2010:1-1 – The opening match of the 19th FIFA World Cup, had no winner although it kept all of its promises. South Africa and Mexico have failed to claim victory Friday afternoon at the Soccer City Stadium in Johannesburg. But there were goals (1-1). There could have been many more as both teams have obtained many occasions. Mexico has heavily dominated the first period but neither Giovani, very early in the game, neither Franco nor Vela have found the key to beat the host nation.
Timid before the break, the Bafana Bafana players later accelerated and this has paid off. The players of Brazilian coach Carlos Alerto Parreira opened the scoring with a beautiful goal (cross shot into the top corner from the left) of left middle Tshabalala, well served by Modise, who also has found a way to miss two easy goals in the 65th and 69th minutes.
Then the game changed direction and Rafael Marquez scored the equalizer with ten minutes remaining on the clock, following a corner by Guardado played quickly. But the whole stadium held its breath when Mphela challenged Mexican goalkeeper Oscar Perez in the 90th minute of the game. The Bafana Bafana forward needed a few centimeters more to score, hitting the post with his shot.
Overall pretty decent opener for the 2010 World Cup, South Africa proved that it has what takes to advance in the next round.
Teams
South Africa : I.Khune – L.Thwala P.Masilela (46e), S.Gaxa, B.Khumalo, A.Mokoena (c.), – T.Modise, S.Pienaar B.Parker (84e), – S.Tshabalala, K.Dikgacoi, R.Letsholonyane – K.Mphela
Mexico : O.Perez – P.Aguilar A.Guardado (56e) , R.Marquez, R.Osorio, C.Salcido, E.Juarez – F.Rodriguez, G.Torrado (c.) , Giovani,G.Franco J.Hernandez (73e) – C.Vela C.Blanco (69e)